Upcoming events
CSUSM & SDSU PRESENT:
Service Learning Faculty Champions
Faculty champions from both campuses will discuss innovative approaches they adopted as we pivoted to virtual service learning during a pandemic.
When: Thursday, April 22, 2021, from 12 PM to 1 PM
RSVP Link: http://bit.ly/SDRegionalTownHall
Moderated by:
Dr. Vinod Sasidharan, Director of Service Learning, SDSU
Rochelle Smarr, M. A., Director for Service Learning and Civic Engagement, CSUSM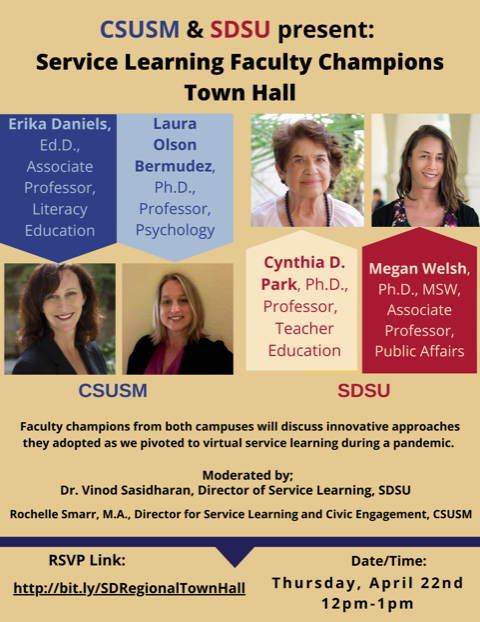 About Service Learning:
Service Learning…promotes student learning through active participation in meaningful and planned service experiences in the community that are substantively related to course content. Through reflective activities, students enhance their understanding of course content, general knowledge, sense of civic responsibility, self-awareness and commitment to the community.
Service Learning Course: An academic course (in any discipline) that provides students opportunities to participate in organized service activities that meet community needs while linking the community service experiences to the course content. This makes service learning a very different experience than community service.
PLEASE JOIN US!
For further information about this event, please contact either Vinod Sasidharan [email protected] or Jose Preciado [email protected], Faculty Advancement and Student Success.